Emerging Trends For 2019 And Beyond
March Acorns 
Kondratiev Wave Update
Source: ZeroHedge.com
February Acorns

January Acorns
Two months ago we first showed what Deutsche Bank dubbed "a quite fascinating statistic" namely that as of the end of October, 89% of assets that the German bank collects data on for its annual long-term study, had a negative total return year to date in dollar terms. This was the highest percentage on record based on data back to 1901, eclipsing the 84% hit in 1920.
Commenting on this striking observation of a market in which quite literally nothing worked, Deutsche Bank said that "this is what happens when the vast majority of global assets are expensive historically due to extreme monetary policy. When the tide goes out you're more likely to get en masse negative months rather than rotation from day equities into bonds or visa-versa."
Fast forward to today, when picking up on the theme of ebbing liquidity tides, in his last Early Morning Reid for 2018, Deutsche Bank's Jim Reid writes that "2018 has been like a rebellious teenager suddenly aware of their own mind, independence, and the world around them after years of being guided and cajoled in everything they do." He also notes that for him "peak QE moving to QT and the Fed raising rates four times this year has been enough to reverse a significant amount of the liquidity-inspired asset price returns of the pre-tightening era. A bit like Road Runner galloping off the cliff only to suddenly look down."
Emerging Trends For 2018 And Beyond
December Acorns
Much has been said about the threat that some $3 trillion in BBB-rated bonds (out of a total investment grade universe of $6.4 trillion)present to the credit market, with growing fears that the next economic slowdown will see over $1 trillion in "fallen angel" credit swamp the junk bond market, sending yields and spreads sprinting higher. Less has been said about the risk of higher-rated A and AA bonds being downgraded to BBB on their way to junk (although we touched on this threat too last Friday in "A Record $90 Billion A-Rated Bonds Downgraded To BBB In Q4").
As the following chart from BNP Paribas shows, a wall of maturing debt is about to slam head on into S&P 500 companies. Commenting on the chart, BNP understandable writes that it is "concerned by the maturity wall of bonds that need to be refinance over the next few years." And, as Bloomberg's Sebastian Boyd observes, said maturity wall is made even scarier by adding the amount available in untapped revolvers, which is money that in theory doesn't need to be paid back and splits the counterparty risk with the company's bank lenders (see GE).
Sources: ZeroHedge.com
November Acorns
After an initial record surge in the amount of US corporate cash repatriated from offshore jurisdictions (if only for accounting purposes, as the bulk of said cash was already largely invested in domestic securities via offshore entities) following Trump's tax law overhaul and tax repatriation holiday, the movement of foreign cash has slowed sharply.

Record notional corporate buybacks have not only surpassed total capex spending for the 2nd quarter in a row, but have been seen as responsible for the relentless bid supporting the stock market.
The monthly trajectory for announced buybacks for S&P500 index companies. Following an accelerating pattern during the first seven months of the year and a peak in July, alongside the market hitting new all time highs, the flow of announced buybacks has been very small for three months in a row.
Sources: ZeroHedge, JP Morgan
October Acorns
BOND MARKET LIQUIDITY IS A PROBLEM
The situation that's developed is concerning. With the growth of exchange-traded funds (ETFs) in the corporate bond space, we have players that are guaranteeing daily liquidity in an asset class that historically doesn't always guarantee liquidity. Today, if investors need liquidity in a hurry, they're essentially on their own, meaning we might notice a dislocation in corporate bonds, keeping in mind that we've seen record issuance.
Normally, corporate debt relative to GDP makes highs at the bottom of the cycle when GDP is shrinking and everybody's tapping their credit lines. Corporate debt relative to GDP is extremely high, and interestingly, the amount of debt that's grown the fastest is just one notch above junk.

Sources: Louis gave
September Acrorns
The U.S. appears to have shelved its plan to levy tariffs on a critical collection of minerals used in everything from hybrid vehicles to electronic gadgets and military hardware. Rare earths including scandium and yttrium are absent from the latest list of about $200 billion of Chinese goods on which the Trump administration plans to impost duties from next week. They were among a number of items scrubbed from the preliminary target list released in July along with car seats and Bluetooth devices. Their inclusion in the first place was odd. China produced more than 80 percent of the world's rare-earth metals and compounds in 2017, according to the U.S. Geological Survey. It has about 37 percent of global reserves and supplied 78 percent of America's imports.
Other niche but important materials were also missing from the revised list. These included graphite flakes, as well as some forms of silicon and magnesium. But it's not just the Trump administration that seems to be having second thoughts about making imports of strategically critical commodities more expensive. Beijing dropped its plan to impose levies on imports of U.S. crude oil, an increasingly important source of supply to the Asian nation.
August Acorns
In an almost unprecedented move, net speculative positioning in gold and silver futures has collapsed in recent weeks.
As Peter Boockvar notes, "for those who care about gold such as myself, in the just released CFTC data for the week ended Tuesday, speculators went net short for the first time since December 2001 when gold was priced at $275 an ounce. It's tough to find a more contrarian indicator."
In fact, as of the latest week – both Gold and Silver futures are now net short…
Hedge funds have never been more net short gold…ever!
Aggregate Gold speculators have not been net short since August 2002 and has not been this net short since Dec 2001. What happened then?

July Acorns
BofA reveals that "net buying of Tech in the 1H was entirely buyback-driven."
BofA writes, while private clients – or ultra high net worth individuals  – were the sole net buyers of US equities in a token amount (in addition to corporates) in the 1H, institutional clients were the biggest sellers, while hedge funds were also net sellers for the duration of the quarter.
June Acorns
Authored by Michael Kern via CryptoInsider.com,
The Fourth Industrial Revolution
Just a few short years after economists and social theorists declared that we had entered the Third Industrial Revolution, the next revolution is already on the horizon. Fueled by artificial intelligence, 5G, the internet of things and augmented reality, these next steps might be the biggest leap forward humanity has ever made. And make no mistake, this revolution will be built on data.
Increasingly, data is being harvested from every aspect of our day-to-day lives. From our purchases to the number of steps we take to our sleep habits or Facebook rants, it's all being recorded. The information is then being used to advertise to us, to map our neighborhoods and even to sway elections. And this process of data extraction is only accelerating. It is the backbone of new world being built around us.
While the implications are far reaching, at least there is some hope in protecting all of this data. Blockchain technology offers not only a means of privacy in this ever-more-connected world, it presents a compromise. Data is now able to be extracted, stored, utilized and understood without a specific person being identified in the process.
Artificial Intelligence and Blockchain Technology
AI and blockchain technology are a match made in heaven. Blockchains can feed AI data safely and securely. Sensitive and personal data can be used to improve our lives and the lives of future generations, and with blockchain tech's encryption, the information will remain anonymous and immutable.
Not only will our information remain safe, the technology will help us better understand decisions made by AI, something that even the brightest programmers on the planet have had trouble with in recent years. Blockchain tech offers a certain transparency and trust in AI functions. If all actions are recorded, the information is auditable and palatable, allowing humans to gain more insight into the robotic minds that are essentially building themselves.
One of the most exciting applications of blockchain technology and AI, however, is in the idea of decentralized autonomous organizations (DAOs). With a growing data set and a secure means of transferring data, smart contracts can be built in order to allow entire companies to operate, grow and learn without human interference.
Imagine Uber as a DAO, for example. Driverless cars, automatic cryptocurrency payments, and a system of system of governance, from the purchase of new cars to tax payments, built with smart contracts. At this point, besides the initial programming, are humans even necessary? Soon, these organizations will become a reality – entire companies will be built, generate income, and pay taxes without a president, CEO, or board of directors running the show.
The Internet of Things and Blockchain Technology
Renewable energy and driverless technology were key features in the Third Industrial Revolution, but now, the Internet of Things is taking energy distribution and transportation to the next level. Smart grids, supply chains and even virtual highways are being built with the help of IoT and blockchain tech.
The 5G revolution promising to usher in a new era of interconnectivity, and blockchain technology will become an increasingly valuable piece of the new digital infrastructure accompanying traditional brick and mortar foundations. The tech will allow companies, governments and individuals to store and digest the tremendous amount of being pulled from the various devices connected to each particular grid.
And with our most critical infrastructure connecting to the web, blockchain tech offers the level of security needed to ensure that all of these systems will remain online and safe from malicious actors.
Cryptocurrencies and the Fourth Industrial Revolution
As the world becomes more digital, and in turn, privacy and security grow in priority, bitcoin and other cryptocurrencies will have a vital role in the Fourth Industrial revolution.
In a world built on blockchain, hundreds of millions of transactions will be taking place every minute, each with their own purpose and value. From energy trades to taxes paid by DAOs, it's likely these exchanges will be made on a blockchain with cryptocurrencies. And governments and corporations around the world are beginning to wake up to this notion.
There is a race unfolding across the planet to develop blockchain applications, and the cryptocurrencies to fund them. The real question, however, is how to bring these all together under an easy-to-use umbrella.
One of the biggest debates unfolding in the crypto world involves the sheer number of altcoins in play, each with their own use-case and limited ecosystem. Though the future of bitcoin is bright, and it could very well function as the sole blockchain and cryptocurrency at the center of this new revolution, it's unlikely that the growth of the altcoin space will slow anytime soon.
Currently, the process to exchange one crypto for another is clunky and costly, but with the addition of a relatively new technology in the blockchain world, atomic swaps, users will be able to instantly exchange any altcoin for bitcoin and vice-versa. This becomes useful in a world awash with cryptos, allowing users to hold bitcoin but buy a coffee with StarbucksCoin without actually having to own StarbucksCoin.
Atomic swaps are only a piece of off-chain, side-chain, and layered network technology currently being developed, and while critics of the crypto-space may be quick to dismiss this new asset class, it's important to remember that the tech and its potential is still being realized.
May Acorns
Hedge Fund Performance – Top 50 Long and Short
This from Goldman Sachs…2018 was the year hedge funds were supposed to finally outperform the S&P. The latest Goldman Sachs hedge fund trend monitor – a survey of 848 hedge funds with $2.3 trillion of gross equity positions ($1.6 trillion long and $702 billion short) as of March 31, 2018 – that was not meant to be, and while the hedge fund hotel basket of most popular stock is just marginally outperforming the S&P YTD, both the equity hedge fund index, the composite hedge fund index, and the global macro hedge fund index are all trailing the S&P500.
April Acorns
Stock buybacks are going on at a record pace of about $150 billion in the first quarter, and are projected at anywhere from a total of $650 to $800 billion this year.
March Acorns
Here is a striking statistic from Moody's: since 2009, the level of global nonfinancial junk-rated companies has soared by 58% representing $3.7 trillion in outstanding debt, the highest ever, with 40%, or $2 trillion, rated B1 or lower. Putting this in contest, since 2009, US corporate debt has increased by 49%, hitting a record total of $8.8 trillion, much of that debt used to fund stock repurchases. Meanwhile, as a percentage of GDP, corporate debt is at a level which on every prior occasion, a financial crisis has followed.
February Acorns
An internet minute in 2018
Today's infographic is from Lori Lewis and Chadd Callahan of Cumulus Media, and it shows the activity taking place on various platforms such as Facebook or Google in each 60 second span.
January Acorns
The US oil rig count has not risen for four weeks and dropped 5 rigs in the last week – the biggest weekly drop since early November – while production is at record highs.
However, as the chart below shows, the rig count is merely mirroring  – as it has for years – the lagged performance of the WTI price…  Which suggests the rig count is about to rise once again and with it – more crude production.
Emerging Trends For 2017 And Beyond
December Acorns
Holiday Spending Trends Higher
A CNBC All-America Survey found that the average family will spend $900 for the first time in the 12-year history of the poll, eclipsing last year's estimate of $702 by a wide margin. At the same time the average debt load has reached new all time highs….
November Acorns
 Asset Prices Are Not Driven By Growth Alone
"The chart below expands that analysis to include four measures combined: Economic growth, Top-line Sales Growth, Reported Earnings, and Corporate Profits After Tax. While quarterly data is not yet available for the 3rd quarter, officially, what is shown is the market has grown substantially faster than all other measures. Since 2014, the economy has only grown by a little less than 9%, top-line revenues by just 3% along with corporate profits after tax, and reported earnings by just 2%. All of that while asset prices have grown by 29% through Q2″.

October Acorns
Years Ending In & Don't Tend To End Well…

September Acorns
Areas of inflation…
August Acorns
The Treasury could get $355 billion in cash from thin air without increasing the debt simply by revaluing U.S. gold to a market price. (U.S. gold is currently officially valued at $42.22 per ounce on the Treasury's books versus a market price of $1,285 per ounce.)
Once the Treasury revalues the gold, the Treasury can issue new "gold certificates" to the Fed and demand newly printed money in the Treasury's account under the Gold Reserve Act of 1934. Since this money comes from gold revaluation, it does not increase the national debt and no debt ceiling legislation is required.
This would be a way around the debt ceiling if Congress cannot increase it in a timely way. This weird gold trick was actually done by the Eisenhower administration in 1953.
---
---

July Acorns
Gold, Silver and Inflation Protection …
Central banks worldwide have gradually stepped up their attempts to create a demand induced inflation for the last two and a half decades. It started with Japan in the 1990's, with the rest of the world following in the 2000's. Since 2003, the major central banks of the world have printed $12.5 trillion but have not managed to boost inflation figures.
But at some point, rest assured inflation will reemerge. The time for insurance would appear to be now. Gold, silver and undervalued mining stocks may be worth the research effort as historically speaking gold's positive seasonality is close at hand. 
~
June Acorns
The New Infrastructure Boom
Here is the set up for future growth. The only question is can President Trump pull it off.
May Acorns
FBI Directors job security lacks longevity!
Comey's dismissal is only the second time the head of the FBI has been fired. The last time it occurred was during Bill Clinton's presidency when the president dismissed William S. Sessions. Generally, as can be seen from the following infographic featured in the Independent, the position of FBI chief doesn't involve a high level of job security.
April Acorns
Costco wins the America's Best Employers Award in 2017…
Costco spent the last two years in the top 5 but this year, the company grabbed top spot with a score of 9.58 out of 10. Costco is the second largest retailer worldwide after Walmart and it has a 143,000 strong workforce in the U.S.. One of its more notable perks is insurance coverage for its part-time workers. Google is famous for its perks and benefits and the search engine giant comes a close second in this year's ranking. The top three was rounded off by outdoor retailer REI who appeared in the ranking for the very first time with a score of 9.53.

March Acorns
Regulations, Regulations, Regulations… U.S. Ranks Dead Last In "Ease of Starting a Business"
 
February Acorns
This is likely to change very soon, similar to the 1930's populism changing of the guard…

January Acorns
The U.S. Dollar trade is a crowded trade, it also means that Gold is a forgotten trade and under owned, making Gold a buying opportunity for 2017.
December Acorns
Hedge fund returns, Russell 2000, Gold and the S&P 500 leads the way.

November Acorns
Surprise, federal tax revenues set new record…
October Acorns
Unsustainable record amounts of debt continue out of control, this should force interest rates to stay low. 
September Acorns
'Animal spirits' are absent – in the United States economy these days; and that's a (twice repeated) comment by Fed Vice Chairman Stanley Fischer at the recent New York Economic Club luncheon.
August Acorns
This chart confirms that bank lending, which is broadly the difference between M2 and M1, is shooting out of control.

July Acorns
The top 1% have been rolling since the 1980's… Not so good for the bottom 90% though.
 
Source: ZeroHedge
June Acorns
It's the FED that creates inflation.
May Acorns
The U.S. Consumer – Big Problems Ahead!
US consumers spending on discretionary items has collapsed for the simple reason simply because these same consumers are forced to spend much more on staples such as housing (or since nobody can afford houses anymore, on rent) and health insurance (thanks Obamacare), has made it into the sellside, in this case the latest Greed and Fear report by CLSA's Chris Wood.
The failure of American consumption to pick up over the past year and more in the manner expected can be explained not just by increased consumer caution but also by the increasing costs of two essentially non discretionary items for most Americans. That is the soaring cost of medical care and the rising cost of rents.
Sources: ZeroHedge
.
.
April Acorns
Stocks Should Double In 3 Years (…Or Drop By A Third)
In our April 1st Chart Of The Day, we showed that the Dow Jones Industrial Average (DJIA) did something that it has only done 3 other times since 1900. After dropping over 10% during the quarter, it recovered to close the quarter positive.
The 3 prior quarters that saw the DJIA accomplish this feat were the 4th quarter of 1933, the 4th quarter of 1971 and the 4th quarter of 2000. Following these reversals, the index had some interesting returns over the subsequent 3 years: it was up a lot…or it was down a lot. After the 1933 occurrence, the DJIA rallied as much as 98% over the next 3 years. Following the 1971 and 2000 events, the index dropped by as much as 35% and 33% in 3 years, respectively.
So which will it be this time? The size of the deficit that stocks overcame in the 1st quarter may give us a clue. At its low, the DJIA was down -11.3% for the quarter. Looking at the prior reversals, we see that the DJIA's max intra-quarter loss in 4Q, 1971 was -10.9% and in 4Q, 2000 it was -10.1%. The max drawdown in 4Q, 1933 was…-11.3%, exactly the same as this past quarter.
Therefore, bulls can take heart in the fact that our prior circumstances are more similar to the 1933 event. And if history is to repeat, we should expect the DJIA to nearly double over the next 3 years to around 35,000. Of course, we can never be too sure, so we would recommend adjusting one's portfolio to take advantage of both potential scenarios.
In all seriousness, one thing that may be instructive about such reversals is the overall investment climate in which they occur. The three prior events took place within secular bear markets. Additionally, there were 26 other quarters since 1900 which saw the DJIA recover at least 8% off its quarterly low after being down at least 10%. All but 2 of those quarters (4Q, 1987 and 4Q, 1997) occurred within a secular bear market.
Therefore, if there is anything that is to be gleaned from such large positive reversals, perhaps it is that they tend to occur within negative secular environments.
Source: Dy Dana Lyons of My401kPro.com
.
.
March Acorns
During times of stress, people focus more on essentials; less on consumption.
.
.
February Acorns
Looks like we are slowly working our way up the recession probability latter. We should know soon.
.
.
January Acorns
Source: King World News
.
.
Emerging Trends For 2015 And Beyond
December Acorns
Virtually every single corporate dollar raised through issuance of debt has been used for one thing – to buyback stock!
This is not to say that companies haven't used their own organic cash creation, declining as it may be, for other purposes such as spending on CapEx and M&A, but the chart below shows very clearly that in isolation from all other sources and uses of funds, several trillion in fungible debt has had just one simple use – to boost stock prices, and to make management teams richer, while letting bondholders managing other people's money foot the bill for record high management bonuses and stock prices.
The chart below makes it clear what all the debt issued in the 21st century (and really ever since 1990) has been used for stock buybacks,
Sources: Societe Generale, Zero Hedge
November Acorns
This heat map tells an interesting story … where the money really is!
October Acorns
Corporate profit margins Are Just Off All Time High's, What Does It Mean!
A picture is worth a thousand words … or in this case maybe it's millions of dollars!
Is this an infallible indicator, it sure looks like it!
September Acorns
Political Science – Class 101 … Monkey business and the government. Pay attention class, there will be a quiz on this!
You start with a cage containing four monkeys, and inside the cage you hang a banana on a string, and then you place a set of stairs under the banana.
Before long a monkey will go to the stairs and climb toward the banana.
You then spray ALL the monkeys with cold water.
After a while, another monkey makes an attempt.  As soon as he touches the stairs, you spray ALL the monkeys with cold water.
 
Pretty soon, when another monkey tries to climb the stairs, the other monkeys will try to prevent it using force !Now, put away the cold water.  Remove one monkey from the cage and replace it with a new monkey. The new monkey sees the banana and attempts to climb the stairs. To his shock, ALL of the other monkeys beat the crap out of him.  After another attempt and
attack, he knows that if he tries to climb the stairs he will be assaulted.
Next, remove another of the original four monkeys, replacing it with a new monkey. The newcomer goes to the stairs and is attacked. The previous newcomer takes part in the punishment – with enthusiasm — because he is now part of the "team."
Then, replace a third original monkey with a new monkey, followed by the fourth. Every time the newest monkey takes to the stairs, he is attacked.
Now, the monkeys that are beating him up have no idea why they were not permitted to climb the stairs. Neither do they know why they are participating in the beating of the newest monkey.  Having replaced all of the original monkeys, none of the remaining
monkeys will have ever been sprayed with cold water. Nevertheless, not one of the monkeys will try to climb the stairway for the banana.
Why, you ask? Because in their minds, that is the way it has always been!
 
This is how our House and Senate currently operates, and this is why, from time to time, ALL of the monkeys need to be REPLACED AT THE SAME TIME!
DISCLAIMER:  This is meant as no disrespect to the monkeys!
Source: Unknown
.
.
August Acorns
Corporate Hocus Pocus
Corporations today are more leveraged now than they were back in 2007 when they showed $3.5 trillion on the books, a record at the time. So when somebody mentions how much cash corporations have on the books, lets look at the facts …. most of the cash has been borrowed, primary for stock buybacks and dividend hikes.

Stanley Druckenmiller, the hedge fund genius noted recently …. " in 2007 corporate bonds were $3.5 trillion, today they are $7 trillion: an amount equal to nearly 50% of US GDP". 
Gulp!
July Acorns
Statistics have proven it to be a down hill ride for the age 54 and over club, especially in spending abilities…..
Sources: Inger Letter, Oak Tree Asset Management
June Acorns
The velocity of money, which is the turn over rate of money in the economy is now at all time lows. Hmm….truly amazing!
Now it's easy to understand why there's no inflation.
Sources:FRED, Wise Dog Research
May Acorns
Ah, so maybe we now know why Warren Buffet sold his recently purchased oil stocks? This could be really big. We mean really really big!
Dresden, Germany:  
Audi has for the first time managed to produce carbon-neutral fuel. They have produced a small quantity of 160 liters of synthetic diesel fuel that produces a "clean diesel quattro". They announced, "If we succeed, CO2 broad use as a raw material, we make a significant contribution to climate protection and resource efficiency and pave the way towards a green economy." Some are calling this breakthrough liquid gold. It appears that when it rains, indeed it rains oil.
The clear fuel is produced through a "power to liquid" process, masterminded by the German clean tech company and Audi partner Sunfire.
The process uses carbon dioxide, the most common greenhouse gas, which can be captured directly from air. Carbon dioxide is created largely by burning fossil fuels and contributes to global warming. Now Sunfire said it can recycle the gas to make a more efficient, carbon-neutral fuel.
Unlike conventional fossil fuels, the "e-diesel" doesn't contain sulphur and other contaminants. "The engine runs quieter and fewer pollutants are being created," Sunfire's Christian von Olshausen said.
The fuel is produced in three steps. First, the researchers heat up steam to very high temperatures to break it down into hydrogen and oxygen. This process requires temperatures of over 800 degrees Celsius (1,472 Fahrenheit) and is powered by green energy such as solar or wind power.
Second, they mix the hydrogen with carbon dioxide under pressure and at high temperature to create so-called blue crude. Lastly, the blue crude is refined into fuels in a similar way fossil crude oil is refined into gasoline.
Audi (AUDVF) said its lab tests have shown the "e-diesel" can be mixed with fossil fuels or used as a fuel on its own.
The new fuel was tested by German Education and Research minister Johanna Wanka last week. She put the first five liters into her official car, and declared the project a success.
"If we can make widespread use of CO2 as a raw material, we will make a crucial contribution to climate protection and the efficient use of resources, and put the fundamentals of the green economy in place," she said.
Sources: Armstrong Economics, Wise Dog Research
April Acorns
Larry Fink – CEO of BlackRock, the largest asset manager in the world – has unleashed a letter to 500 CEOs around the world – telling them that "the effects of the short-termist phenomenon are troubling both to those seeking to save for long-term goals such as retirement and for our broader economy," bucking the dividend/buyback trend that investors are demanding. As NYTimes notes, the shortsightedness that pervades corporate America is just a symptom of a larger issue. "This is not just a corporate problem," Fink explains, "It's a societal problem, we're currently living in a "gambling society."
BlackRocks Larry Fink's Letter… encouraging a focus on long-term growth strategies… But will anyone listen?

…
Dear Chairman or CEO,
As a fiduciary investor, one of BlackRock's primary objectives is to secure better financial futures for our clients and the people they serve. This responsibility requires that we be good stewards of their capital, addressing short-term challenges but always with a focus on the longer term.
To meet our clients' needs, we believe the companies we invest in should similarly be focused on achieving sustainable returns over the longer term. Good corporate governance is critical to that goal. That is why, two years ago, I wrote to the CEOs of the companies in which BlackRock held significant investments on behalf of our clients urging them to engage with us on issues of corporate governance. While important work remains to be done, good progress has been made on company-shareholder engagement. I write today re-iterating our call for engagement with a particular focus on companies' strategies to drive longer term growth.
Many commentators lament the short-term demands of the capital markets. We share those concerns, and believe it is part of our collective role as actors in the global capital markets to challenge that trend. Corporate leaders can play their part by persuasively communicating their company's long-term strategy for growth. They must set the stage to attract the patient capital they seek: explaining to investors what drives real value, how and when far-sighted investments will deliver returns, and, perhaps most importantly, what metrics shareholders should use to assess their management team's success over time.
It concerns us that, in the wake of the financial crisis, many companies have shied away from investing in the future growth of their companies. Too many companies have cut capital expenditure and even increased debt to boost dividends and increase share buybacks. We certainly believe that returning cash to shareholders should be part of a balanced capital strategy; however, when done for the wrong reasons and at the expense of capital investment, it can jeopardize a company's ability to generate sustainable long-term returns. We do recognize the balance that must be achieved to drive near-term performance while simultaneously making those investments – in innovation and product enhancements, capital and plant equipment, employee development, and internal controls and technology – that will sustain growth.
BlackRock's mission is to earn the trust of our clients by helping them meet their long-term investment goals. We see this mission as indistinguishable from also aiming to be a trusted, responsible shareholder with a longer term horizon. Much progress has been made on company-shareholder engagement and we will continue to play our part as a provider of patient capital in ensuring robust dialogue. We ask that you help us, and other shareholders, to understand the investments you are making to deliver the sustainable, long-term returns on which our clients depend and in which we seek to support you.
Sources: NY Times, BlackRock, Wise Dog Research
March Acorns
We Ask The Question, But The Answer Will Depend On Where One Stands ……
Which is better: A stronger dollar or a weaker dollar? It's for you to decide!
Sources: Zero Hedge, Wise Dog Research
February Acorns
Mapping the last 215 years of interest rates………
Sources: SG Cross Research, Wise Dog Research
January Acorns
Goldman Sachs has just released this S&P Sentiment chart. The boundaries shown by the dotted line show extremes in the markets…. currently we are at 100/100, the highest positive reading possible.  This happens only on rare occasions, this being one of them. It would seem that there is

NO

risk in the markets, but this chart says otherwise. Buyers are living on borrowed time. Buyers beware!

It's worth noting that Goldman Sachs is a perma bull, so when they post a chart like this, it is worth a double take, and we would error on the side of caution at the first sign of a reversal in the markets.
Sources: Goldman Sachs, Wise Dog Research
Emerging Trends For 2014 And Beyond
December Acorns
Play it again, Sam…… History has a habit of repeating itself, but never like this!
Everyone should read this article, then look at the reflections in the mirror. Hint, things look similar to 2006 through 2009 (but

covenant-lite

potentially makes this time worse).
A very simple but  loose example of cove-lite would be similar to  a bank making a loan on a car, but not having covenant rights to reposes the car for a lack of auto insurance. A covenant in this case would require proof of auto insurance, which if not met would allow for the rescinding of the loan and reposition of the car.
DEFINITION of 'Covenant-Lite Loans'
A type of loan whereby financing is given with limited restrictions on the debt-service capabilities of the borrower. The issuance of covenant-lite loans means that debt is being issued, both personally and commercially, to borrowers with less restrictions on collateral, payment terms, and level of income.
~~~~~~~~~~~~~~~~~~~~~~~~~~~~~~~~~~~~~~~~~~~~~~~~~~
In its 2014 Annual Report to Congress, the US Treasury's Office of Financial Research, which serves the Financial Stability Oversight Council, analyzed for our Representatives the "potential threats" to the US financial house of cards. Among the biggest concerns was a financial creature that has boomed in recent years. The Fed, FDIC, and OCC have warned banks about it since March 2013. But they're just too juicy: "leveraged loans."
Leveraged loans are issued by junk-rated corporations already burdened by a large load of debt. Banks can retain these loans on their balance sheets or sell them. They can repackage them into synthetic securities called Collateralized Loan Obligations (CLOs) before they sell them. They have "Financial Crisis" stamped all over them.
So the 160-page report laments:
The leveraged lending market provides a test case of the current approach to cyclical excesses. The response to these issues has been led by bank regulators, who regulate the largest institutions that originate leveraged loans, often for sale to asset managers through various instruments. Despite stronger supervisory guidance and other actions, excesses in this market show little evidence of easing.
Financial engineering has taken over.
Early on in the credit cycle, corporations borrowed money long-term to replace short-term debt and to fund capital expenditures. Now they use the borrowed money to "increase leverage such as through stock buybacks, dividend increases, mergers and acquisitions, and leveraged buyouts, rather than to support business growth." And ultra-low interest rates and loosey-goosey lending standards have encouraged corporations to "take on more debt than they can service."
So the ratio of debt to earnings before interest, taxes, depreciation, and amortization (EBITDA) for the most highly leveraged loans reached 7.7 in October, near the peak in 2007, at the cusp of the Financial Crisis. Large corporate loans with leverage ratios above the regulatory red-line of 6 times EBITDA soared from 15% of corporate bank loans, back when regulators started warning banks about them, to nearly 30% in 2014, exceeding the record set in 2007 before it all went down the tubes: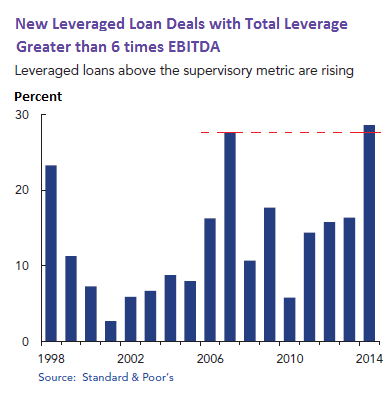 Why would that be a problem? Because…. "Even an average rate of default could lead to outsized losses once interest rates normalize."
And the quality of the debt sucks.
Junk debt accounts for 24% of all corporate debt issued since 2008, up from 14% in prior cycles. Over the past year, junk debt "dominated new issuance volumes." And ominously for the holders of this debt:  Two-thirds of these loans during the current credit cycle lack strict legal covenants to protect lenders, compared to one-third in previous cycles. Once the tsunami of defaults sets in during the downturn, these "covenant lite" loans will lead to lower recovery rates on defaulted debt, thus increasing the losses further.
This chart (2014 data through September, annualized) shows how volume of "highly leveraged loans" (those with a spread of 225 basis points above LIBOR), at nearly $600 billion this year, is about 50% higher than it was at the cusp of the Financial Crisis.
And the dreaded covenant-lite loans: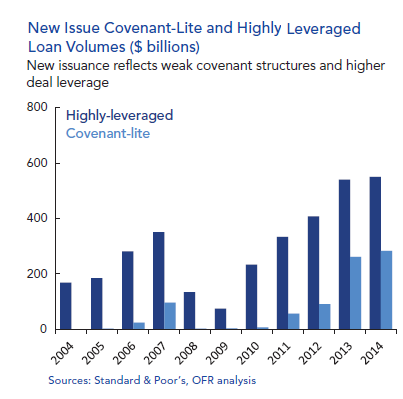 Now enter CLOs.
The combined issuance of CLOs and leveraged loans has exceeded the peak levels of the last credit cycle, whose downturn phase turned into the Financial Crisis. This buildup in credit risk has frazzled bank regulators, and they have responded harshly, the OFR reported, um, "with guidance and exhortations."
It may be too little, too late. As the credit cycle enters the downturn phase with the deterioration in corporate credit fundamentals and rising debt levels, "the buildup of past excesses will eventually lead to future defaults and losses."
But we're not there, yet. Oh we're real close though!
Yields on leveraged loans and junk bonds, and spreads per unit of leverage, are still at historic lows, the OFR found (though some of it has very recently gone to heck, especially in the energy sector). And "investors are not being compensated for the incremental increase in corporate leverage."
The increased credit, liquidity, and volatility risks – that "tend to rise simultaneously during periods of stress" – have led to these junk loans being wildly "mispriced." When they're repriced during the downturn, investors will lose their shirts.
And "product innovation" has soared, another "hallmark of late-stage credit cycles." They led to "broader, cheaper access to credit such as exchange-traded, high-yield, and leveraged loan funds; total return swaps on leveraged loans; and synthetic collateralized debt obligations (CDOs)."
Banks, after originating these leveraged loans and repackaging them, increasingly sell them to nonbank lenders, such as institutional investors, pension funds, insurance companies, finance companies, mutual funds, ETF, etc. This process started long before the Financial Crisis – manifested by the collapse and occasional bailout of nonbanks, such as AIG. This chart (data through June 2014) shows this trend of risk being sloughed off to others:
The problem with nonbanks?
They're not regulated by banking regulators. Even if the Fed, the FDIC, and the OCC crack down on banks with regards to leveraged loans, there is little they can do about nonbanks. And pushed to desperation by the Fed's near-zero interest rates, nonbanks "engage in riskier deals than banks…."
Short-duration funds, which invest in leveraged loans, have shown the most significant growth. Assets under management have increased ten-fold over the last five years, driven by a search for yield and a hedge against an eventual rise in interest rates.
But banks can still be at risk when "a sudden stop in the leveraged lending market" – for example, when investors in ETFs and mutual funds get spooked – forces banks that originated these leveraged loans to hang on to them.
Yet a "significant amount of this risk continues to migrate to asset management products," including mutual funds and ETFs that people have in their retirement funds. And investors in these products are largely on their own. When redemptions and fire sales start cascading thorough the system – the dreaded "structural vulnerabilities" – all heck could once again break loose. And that "adds urgency to the discussion" of how "a poorly underwritten leveraged loan that is pooled with other loans or is participated with other institutions may generate risks for the financial system."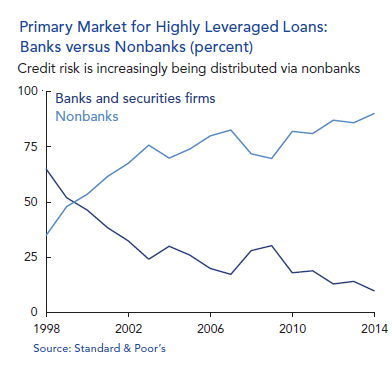 Sources: Wolf Richter   www.wolfstreet.com   www.amazon.com/author/wolfrichter, Wise Dog Research, Zero Hedge
November Acorns
The dollar has been the strongest of all major currencies recently (which imports deflation at home by making things we buy cheaper, but it also makes our exports or things we sell more expensive, thus potentially cutting demand for them). The result of this is that most other currencies are down, in effect they've lost their marbles…and if you include gold as a currency, it's down too and lost its marbles! That's why the United States can successfully control things. The U.S. isn't particularly worried about anything at the moment. But rest assured there will come a time when the tables get turned and we get our comeuppance. When that day comes, it will be very interesting to see how we react to losing our marbles!
In the mean time, stock and bond markets are ramping to new highs while gold and silver are plunging. The remainder of the year will most likely break all known records to the upside for the stock markets. In fact it's entirely possible that Wall Street won't have a down week until next year, 2015.  Enjoy!
The chart below shows how our monetary base has exploded since 2009. The consequences to this are still unknown, but rest assured the derivative side of this could ruin the world if it ever blew up!

October Acorns
These are the three most important charts you will see this year! Each one tells the same overall story, that of financial carelessness like we've never seen before. Soon investors will be forced to pay attention to these reckless actions. The end result won't be pretty, and we wouldn't be surprised if the markets have put in multi year highs, highs that maybe we won't see again for many years!
Chart 1) We see an all time record amount of stock on margin and margin debt, and an all time record low for account equity. These are bad combinations.
Chart 2) We see a record dollar valuation put on new company startups.
3) We see record amounts of new subprime non-revolving credit debt…..
Sources; Wall Street Journal, NYSE, Zero Hedge
September Acorns
September 03, 2014    Special Interview….Questions and Answers on the markets with real estate titan and billionaire Sam Zell…..
Oak Tree Asset Management: Hello Sam, so what do people do with their money today, where do they go with it…..
Sam Zell: "People have no place else to put their money, and the stock market is getting more than its share. It's very likely that something has to give here."
Oak Tree Asset Management: Sam, what are some of the things that worry you here?  People are really confident they can't lose money in the markets. Can anything ever make people worry again?
Sam Zell: "I don't remember any time in my career where there have been as many wildcards floating out there that have the potential to be very significant and alter people's thinking," … "If there's a change in confidence or some international event that changes the dynamics, people could in effect take a different position with reference to the market."
Oak tree Asset Management: So what bothers you the most on the corporate side…what do you see out there right now?
Sam Zell: "It's almost every company that's missed has missed on the revenue side, which is a reflection that there's a demand issue." "When you got a demand issue it's hard to imagine the stock market at an all-time high."
Oak Tree Asset Management: Sam, are we at a top, how do people know when to protect themselves?  Markets never go down, and everybody knows it, so why worry?
Sam Zell:  "If you're wrong on when, that's a problem." "You got to tiptoe … and find the right balance.""This is the first time I ever remember where having cash isn't such a terrible thing, despite the fact that interest rates are as low as they are."
Oak Tree Asset Management: Sam, thanks so much for talking with us!
Buyer Beware, the Investors Intelligence Bull/Bear chart below has never been higher!  You have been warned….this is extremely bearish longer term.
August Acorns
With a correction on the the way early, and technical indicators heading down toward over sold levels, stock markets surprisingly (now) look to reverse higher into September, maybe even hitting new highs in an over shoot exhaustion rally. Labor Day is just around the corner and a change in behavior from up to down is a distinct possibility soon thereafter. Our eyes are set firmly on October, with a event driven Black Swan derivative blow-up a real possibility based on linguistics data. Some things to watch for in the September / October period include volcano eruptions, earthquakes and early winter weather in the U.S. Midwest and East!  Buyer beware!
July Acorns
So far… so good, the stock market looks like a big juicy hot dog with a lot of mustard on it, but if the mustard comes off the hot dog, we've got a mess on out hands. We continue to think that the market will slowly work its way higher into Labor Day. From that point we see a correction heading into December. 
Gold and Silver are in the midst of an uninteresting rally…but mining stocks have acted better then their respective physical metals (at least so far), and have been surprisingly positive during a negative seasonal period. This is normally a good longer term sign. The daily gold and silver market technical indicators look over bought, but many weekly and monthly technicals are at or near all time lows going back into the 1970's. A shallow pull back into July would be the set up for an explosive metals rally into August and September, then likely into year end. A hard punch to the downside for the metals will ruin the positive setup. If this becomes the case, it favors dead cat bounces for the metals, and tax loss selling for the mining stocks into year end.

June Acorns
As we review our most likely short term scenario for the stock market, we see a slow slumbering upside lasting into the Labor Day period. If we error, we feel it will be a shock to the negative side. It is possible, but not probable that suddenly the world of investors pressing for return finally come to their senses and realize that the markets are radically over extended. Leverage (of which there is a lot of) will then become a dead weight. If so, a correction starts early and we wouldn't be surprised to see it snow ball very quickly into a 25-30% downside correction by year end. If this situation progressed, it would cause the economy to slow rapidly and send us into another recession.
Of interest and not as market sensitive, we have a small biotech that has first in class neurogenic small molecule drugs waiting on key phase 1b and II test results. This company is small and virtually unknown. They're drugs are patented and 100% owned for commercialization and they have early mover advantage on a specific drug of real significance. Could be a barn burner if positive outcomes are confirmed like we suspect. Also, they have another drug in phase studies, and it has just turned the tables on everyone. This unexpected surprise could become substantial very quickly with phase II studies dead ahead…worth maybe up to $100 million to a large pharma partner under the right circumstances. The key here is the above scenario would self fund the company's main drug, which has blockbuster potential.
Lastly, with the weakness in Gold and Silver, we are close to re-entering two or three very intriguing gold and silver mining stocks that are selling at major discounts to net asset values. These are in our opinion low risk, high reward situations with a 3 year time frame. We wouldn't be surprised if each one turned into a 5 to 10 bagger by 2017, maybe even sooner depending on geopolitical and economic time tables!
May Acorns
Sell in May and go away….except this year! Government rigging in every  kind of market leads us to believe that there is no liquidity stress in the stock markets in general and little downside to the markets over the foreseeable future, but there are stresses in the economy, which is the reason for all of this liquidity floating around. It is also creating forced investment decisions on everyone. The slow limited upside market action could last until Labor Day. There will come a time when market stress reenters the market place, but it isn't here! Record amounts of margin and record low volatility are big negatives, so if we have a negative liquidity event hit Wall St, markets would probably crash, but governments of the world would have to lose control of things for that to happen. It's something to be aware of concerning the risks and dangers later down the road.
April Acorns
Here is an interesting Acorn recently brought to our attention. It concerns Saudi Arabia. It was reported that the Kingdom is negotiating with Pakistan for the deployment on KSA (Kingdom of Saudi Arabia) soil of up to 30,000 troops. Given the predominance of Sunni Muslims in Pakistan, it is understandable for the Saudis to expand upon economic and political relations with Pakistan. However, the stationing of troops on their soil in such large numbers might lead one to the conclusion: that the potential for unrest in Saudi Arabia is greater than most people thought.
And here's another Acorn shown below…..this one spells big trouble ahead in our social and economic structure, and it may last for many years! The Rich aren't going to be singing the same money song much longer, but instead they look to be in for a bumpy ride going forward.

March Acorns
Gold and silver have gone up in a slow methodical meander.  In fact it looks to us like a potential range bound rally in a downtrend, and althoough some positive trend lines have been broken to the upside, we view the overall rally for the most part as unimpressive with an upside target of maybe $1420-1445. Gold and silver stocks have seen larger runs then the physical metals.  Here is what could cause Gold to bolt higher. 1) A shallow gold pull back that can't pickup steam to the downside, or… 2) if the Chinese Yuan (Renminbi) were to see a rapid devaluation, or…3) a war breaks out in eastern Europe (Ukraine).  Scenario 2 or 3 could trigger a derivitive blast that might rapidly change many things around the world! It likely would also change how gold is percieved as a store of value.
Markets look risky here, but with so much government backing (rigging), markets may well hang in until after tax time. We expect a tough year for 2014.
03-03-2014  This just in from Art Cashin on the floor of The New York Stock Exchange…. Worthy of note: After some delay, the recent NYSE margin debt has been released.  The always savvy Jason Goepfert over at SentimenTrader saw some uncomfortable parallels. Here is a bit of what he wrote: The latest margin debt figures were released for January, showing another uptick in debt and a decrease in the net worth of investors.  The "available cash" for investors to withdrawl is now negative $159 billon, another new record low.  As a percentage of the market cap of all U.S. equities, it amounts to -0.75%, tied with February 2000 for the most extreme figure since 1987.   Not happy precedents!